The summer meeting of film enthusiasts, Il cinema Ritrovato, which is held annually from the end of June to the beginning of July in Bologna, changes its dates this year. The health crisis and the confinement certainly prevented the organizers from maintaining the festival on its usual dates, but ultimately did not lead to its cancellation!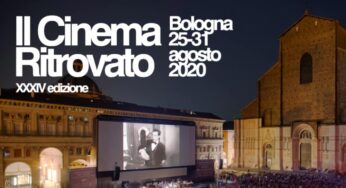 The new dates proposed for the 34th edition of Il cinema Ritrovato are now from 25 to 31 August 2020.
Il cinema Ritrovato , organized by the Bologna Cinematheque, is the biggest meeting in the world around film restoration. It presents a rich selection of rare, untraceable or considered lost films from the historical archives of cinematheques in various countries. Screenings take place in many places in the historic center of Bologna, including Piazza Maggiore (famous screenings in Piazza).
For more information, please visit the official festival website: Il Cinema Ritrovato

You can click here also to know all the details of the 2020 edition.