Last updated on April 8, 2017

PRESS RELEASE

The Dallas Film Society announces award winners for the
10th edition of the Dallas International Film Festival
Diego Luna's MR. PIG named Best Narrative Feature, and Jessica Dimmock
and Christopher LaMarca's THE PEARL wins Best Documentary Feature
Keith Maitland's TOWER takes the Texas Film Competition
and Nanfu Wang's HOOLIGAN SPARROW wins the Silver Heart Award
Audience Award winners are Greg Kwedar's TRANSPECOS for Best Narrative Feature,
Jenna Jackson and Anthony Jackson's UNTIL PROVEN INNOCENT
for Best Documentary Feature, and Duke Merriman's
SO GOOD TO SEE YOU for Best Short Film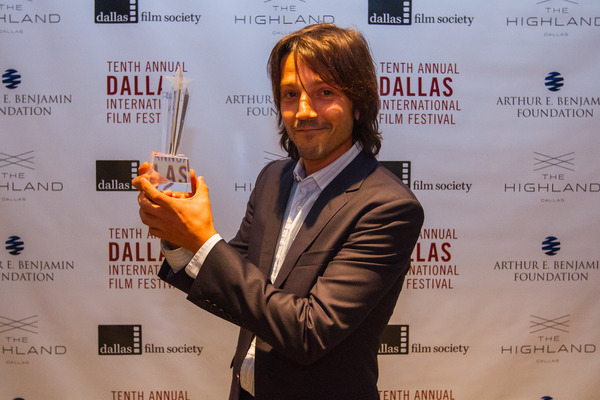 Diego Luna – director of MR. PIG (Narrative Feature, Grand Jury Prize) – Photo by Sam Hodde
Dallas, TX (April 22, 2016) – The Dallas Film Society announced the award winners for the 10th edition of the Dallas International Film Festival at the annual Dallas Film Society Honors Gala Presented by the Arthur E. Benjamin Foundation held at The Highland Dallas (5300 E. Mockingbird) on Friday, April 22. Diego Luna's MR. PIG took home the Narrative Feature Grand Jury Prize and Jessica Dimmock and Christopher LaMarca's THE PEARL was awarded the Documentary Feature Grand Jury Prize. A Special Narrative Feature Jury Prize was awarded to Ondina Quadri for her performance as the title character in Carlo Lavagna's ARIANNA, and a Special Documentary Feature Jury Prize was also awarded to Patrick Shen's IN PURSUIT OF SILENCE.

The Arthur E. Benjamin Foundation Audience Awards were presented to: Greg Kwedar's TRANSPECOS for Best Narrative Feature, Jenna Jackson and Anthony Jackson's UNTIL PROVEN INNOCENT for Best Documentary Feature, and Duke Merriman's SO GOOD TO SEE YOU for Best Short Film. The awards include cash prizes of $2000 for the feature length winners, and $1000 for the short film winner.
In addition to the presentation of the filmmaking awards, the evening also featured the presentation of the Dallas Star Award to two-time Academy Award nominated cinematographer Ed Lachman, and the inaugural presentation of the L.M. Kit Carson Maverick Filmmaker Award to filmmaking legend Monte Hellman.
"We had a phenomenal and diverse group of films this year that pushed boundaries, touched emotions, and demonstrated true craft in filmmaking," said James Faust, Artistic Director of the Dallas Film Society. "It seems as though we say this every year, but our jury members had an unenviable challenge in choosing one film above the others in each category."
Keith Maitland's TOWER won the Texas Competition Grand Jury Prize (Presented by Panavision), earning a camera rental package valued at $30,000, and Berndt Mader's BOOGER RED received a Texas Competition Special Jury Prize. Nanfu Wang's HOOLIGAN SPARROW won the Silver Heart Award (Presented by the Embrey Family Foundation) and the $10,000 cash prize bestowed on an individual or film for their dedication to fighting injustices and/or creating social change for the improvement of humanity.
In the Short Film categories, Margaret Brown's THE BLACK BELT won the the Short Film Grand Jury Prize, and Augustine Frizzell's MINOR SETBACK was awarded a Special Jury Prize. The Student Short Grand Jury Prize went to Amelie Wen's FATA MORGANA, with Samantha Buck's THE MINK CATCHER receiving a Student Short Special Jury Prize. The Animated Short Grand Jury Prize (Presented by Reel FX) was given to Conor Whelan's SNOWFALL.
The recipients of the 2016 DIFF awards will receive MOVIE MAGIC Budgeting and Scheduling software bundles from Entertainment Partners.
Jurors for this year's edition of DIFF included: Oscilloscope's Dan Berger, AFI DALLAS/DIFF co-Founder and filmmaker Michael Cain (TV JUNKIE, THE STARK CLUB), and director/screenwriter Julia Dyer (LATE BLOOMERS) judging the Narrative Feature Competition; DIFF filmmaking alum Ben Powell (BARGE), and Denver Film Festival's Brit Whitney on the Documentary Feature Jury; filmmakers PJ Ravel (BEFORE YOU KNOW IT) and Amy Talkington (THE NIGHT OF THE WHITE PANTS), also DIFF alums judging the Texas Competition category; and Plan B's Kyle Laursen, filmmaker Jonathan Lisecki (GAYBY), and Sundance Film Festival's Lisa Ogdie on the Short Film jury.
The Dallas International Film Festival continues with two more days of films on Saturday and Sunday, April 23 & 24, at the Angelika Film Center (5321 E. Mockingbird) and the Alamo Drafthouse Dallas (1005 South Lamar) with encores of award-winners, added screenings of audience favorites, joining the previously scheduled screenings for Dallas audiences to enjoy.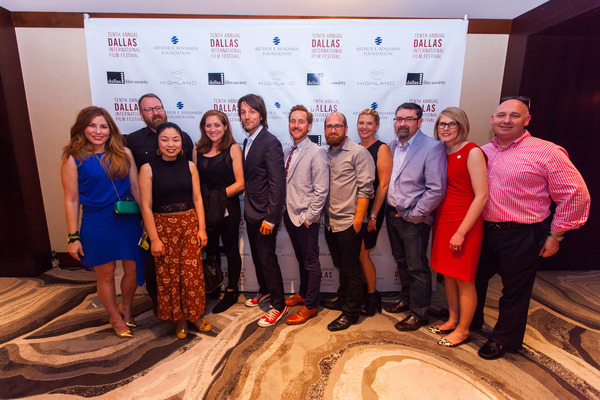 Katherine Harper (Executive Producer of THE MINK CATCHER), Keith Maitland (Director of TOWER), Nanfu Wang (Director of HOOLIGAN SPARROW), Augustine Frizzell (Director of MINOR SETBACK), Diego Luna (Director of MR. PIG), Clint Bentley (Screenwriter of TRANSPECOS), Anthony Jackson, Jenna Jackson, Directors,  David Hobbs, Editor and Producer, Casey Hobbs, Production Coordinator, and Sam Wilkinson, Producer of UNTIL PROVEN INNOCENT)
THE 2016 DIFF JURY AWARD WINNERS
NARRATIVE FEATURE GRAND JURY PRIZE: MR. PIG
DIR: Diego Luna
NARRATIVE FEATURE SPECIAL JURY PRIZE (PERFORMANCE): ARIANNA
DIR: Carlo Lavagna
CAST: Ondina Quadri
DOCUMENTARY FEATURE GRAND JURY PRIZE: THE PEARL
DIR: Jessica Dimmock and Christopher LaMarca's
DOCUMENTARY FEATURE SPECIAL JURY PRIZE: IN PURSUIT OF SILENCE
DIR: Patrick Shen
TEXAS COMPETITION GRAND JURY PRIZE (PRESENTED BY PANAVSION): TOWER
DIR: Keith Maitland
TEXAS COMPETITION SPECIAL JURY PRIZE: BOOGER RED
DIR: Berndt Mader
SILVER HEART AWARD (PRESENTED BY THE EMBREY FAMILY FOUNDATION): HOOLIGAN SPARROW
DIR: Nanfu Wang
SHORT FILM GRAND JURY PRIZE: THE BLACK BELT
DIR: Margaret Brown
SHORT FILM SPECIAL JURY PRIZE: MINOR SETBACK
DIR: Augustine Frizzell
STUDENT SHORT FILM GRAND JURY PRIZE: FATA MORGANA
DIR: Amelie Wen
STUDENT SHORT SPECIAL JURY PRIZE: THE MINK CATCHER
DIR: Samantha Buck
ANIMATED SHORT FILM GRAND JURY PRIZE (PRESENTED BY REEL FX): SNOWFALL
DIR: Conor Whelan
THE 2016 DIFF AUDIENCE AWARD WINNERS (PRESENTED BY THE ARTHUR E. BENJAMIN FOUNDATION)

NARRATIVE FEATURE: TRANSPECOS
DIR: Greg Kwedar
DOCUMENTARY FEATURE: UNTIL PROVEN INNOCENT
DIR: Jenna Jackson and Anthony Jackson
SHORT FILM: SO GOOD TO SEE YOU
DIR: Duke Merriman
ABOUT THE DALLAS FILM SOCIETY
The Dallas Film Society celebrates films and their impact on society. A 501(c)(3) non-profit organization, the Dallas Film Society recognizes and honors filmmakers for their achievements in enhancing the creative community, provides educational programs to students to develop a better understanding of the role of film in today's world, and promotes the City of Dallas and its commitment to the art of filmmaking. The annual Dallas International Film Festival is a presentation of the Dallas Film Society and has been named by Movie Maker Magazine as one of the "25 Coolest Film Festivals in the World." In addition to producing one of the largest festivals in the Southwest, the Society produces numerous year round events, screening series and programs in partnership with arts organizations around the city. The offices of the Dallas Film Society are located at 3625 North Hall Street, Suite 740, Dallas, TX 75219. For more information about the Dallas Film Society and its ongoing events, visit www.dallasfilm.org or call (214) 720-0555.
ABOUT DART TO DIFF
DART allows commuters to navigate around Dallas and 12 surrounding cities with modern public transit services and customer facilities tailored to make transportation fast, comfortable and economical. The new DART to DIFF partnership is making it even easier for 2016 Dallas International Film Festival-goers to quickly and safely travel from the 2016 DIFF hub in Mockingbird Station to exciting events around the city. As the main public transportation provider in Dallas, DART is the perfect partner for the 2016 festival and a vital resource for movie-goers. In addition, DART pass and ticket holders will receive $2 discount off DIFF regular ticket prices when purchasing tickets at the DIFF Box Office in Mockingbird Station.
2016 DIFF SPONSORS:  ABCO; A&C Texas Magazine; AdChat DFW; Advocate Magazine; Akin Gump Strauss Hauer and Feld, LLP; Alamo DraftHouse Cinemas DFW; The Angelika Film Center; Austin Film Festival; Arthur E. Benjamin Foundation; BBVA Compass Foundation; Buy LEDs; Cinelease; Cinesend; City of Dallas – Office of Cultural Affairs; The Crow Collection of Asian Art; Commerce House; D Magazine; Dallas Convention and Visitors Bureau; Dallas Film Commission; Dallas Morning News; Dallas Museum of Art; Dallas Producers Association; Dallas Tourism Public Improvement District (DTPID); DART; Deep Eddy Vodka; Downtown Dallas Inc.; Earth Day Texas; El Creative; Embrey Family Foundation; Film Freeway; Flagship Marketing; Fun Flicks; The Hall Group; The Highland Dallas, Hong Kong Economic & Trade Office; Hyatt House – Uptown; KD Conservatory; Klyde Warren Park; Levenson; Magnolia Hotel Dallas/Park Cities; Marcs Clips; Media 2-Way; Mockingbird Station; Movie Magic; Murray Media; My Sweet Charity; Nasher Sculpture Center;  Nowadays Orange; One Arts Plaza; Panavision; PaperCity; People's Last Stand; Post Asylum; Prekindle; Pure Evil Sound & Music Design; Radar Creative Studio; ReelFX; Ruthies's Rolling Café; SAGindie; Selig Polyscope Company; Sewell Motors; Southern Methodist University – Division of Film & Media Arts; Stella Artois; Studio Movie Grill; Texas Association of Film Commissions; Texas Commission of the Arts; Texas Film Commission; Univision; WFAA; Which Wich; Whole Foods Market; Wilson Elser Moskowitz Edelman & Dicker; Women In Film