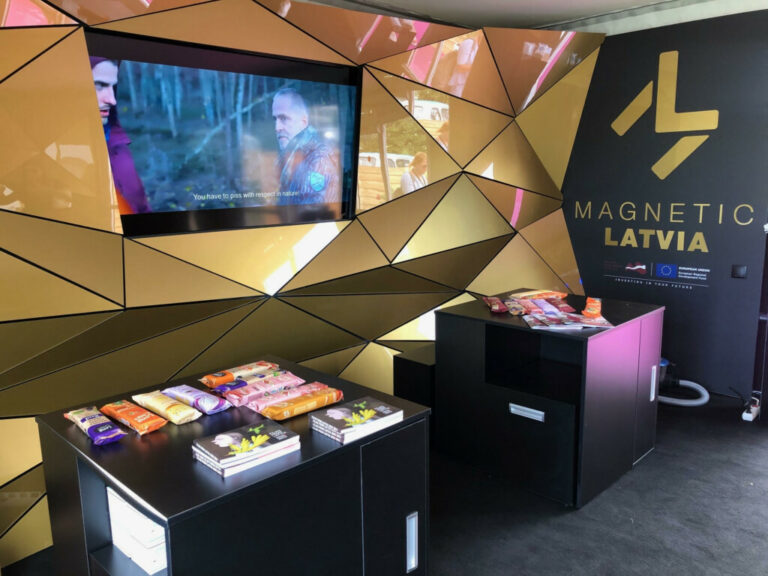 For the last five year's, Latvia's presence in the Marché du Film has been marked by boldly designed pavilions – different ones each year – to showcase the country's forward-thinking, entrepreneurial Nordic spirit. Spearheaded by the Investment and Development Agency of Latvia (LIAA), Cannes' Latvian hub supports the country's adventurous filmmakers, whose auteur-driven features, docs and animation films tend to compete in festivals like Rotterdam (Davis Simanis' THE YEAR BEFORE THE WAR, 2021), Tallinn (THE SIGN PAINTER 2020), and Annecy (MY FAVORITE WAR, 2020).
LIAA organized the international conference Magnetic Series for long-form content just before a second lockdown closed Europe in the fall of 2020 – taking advantage of Latvia having Europe's lowest infection rates and highly developed tracer technology.
This year the agency is back to support Latvian producers doing business in person on the Croisette. LIAA's Director General Kaspars Rozkalns: "Despite the global pandemic, we actively reviewed state aid instruments and encouraged entrepreneurs to take advantage of new opportunities. All of this prompted both record-breaking numbers in exports and the best results in investment projects we have seen in the past seven years.
I am glad that the activity in the film industry remained high as well, resulting in co-productions and new projects with Germany, the Czech Republic, The Netherlands, France, Norway, Italy, Poland, Slovenia, Russia, and others."
This year, Latvia's participation is closely tied to its neighbours: Lithuania and Estonia. The three leading film institutions of the Baltic States cooperate more and more closely, following the principle that joining forces make them more visible in the international arena. "The main priority is to get our film industry fully back on track," says Rozkalns. "As the world is gradually moving away from restrictions, we are ready to engage our professionals, brilliant filming locations and know-how in new projects of high-quality content for both cinema and TV formats."
LIAA embraces both the film and the TV industry – as its high quality services, lower production costs, up to 50% tax breaks and stunning, untouched locations have featured in many international productions. The streets of Riga were used to shoot scenes taking place in Warsaw, Berlin, London, Zurich, and other European cities. The Western coastline of Kurzeme has doubled as Normandy on D-Day, the town of Kuldiga dressed as a small town in Poland, and the forests of the Latgale region have imitated German-occupied Soviet territories during the Second World War.
It's the first time that Kaspars Rozkalns attends Cannes, not wanting to miss the film industry's global reopening. "This Cannes edition marks the rebirth of cinema. Being at the here means, above all, feeling the unique creative energy that permeates every event. Now, people can meet in person after a long break, and everyone is happy to return to business as they know it. We are optimistic and believe that this year's festival will bring both new offers of cooperation and confidence that the industry can resume at full speed."